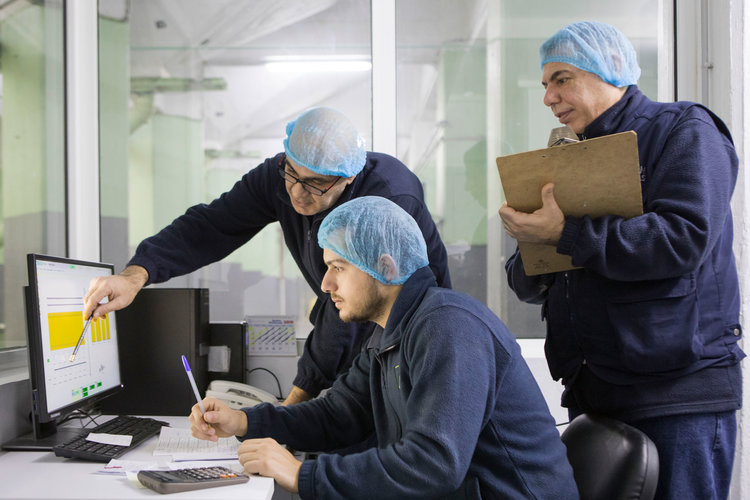 Traceability / Consistency
Today, our facility is powered by the latest processing technologies engineered and supplied by Bühler, Switzerland. By equipping our production lines with this top-of-the-line brand, we ensure the careful handling of raw materials and exceptional product quality.
From grain procurement, cleaning, and conditioning, to storing, milling, and delivery, we and have refined our milling capabilities so that we can exert the maximum degree of control over the process's critical areas. That is why, day after day, we are able to bring to you flours of unrivalled safety, quality and consistency. 
Bakalian Flour Mills has on-site concrete silos with a storage capacity of 30,000 Metric Tons, enabling us to provide consistent product quality and supply with a three months safety margin. In close proximity to the port of Beirut, our flour mills have three production lines processing 200,000 Tons of wheat annually.
To get the best product, efficient processing of wheat is crucial. All production lines are fitted with scourers, sterilators and control-sifters to ensure maximum cleanliness and monitored with Wincos R2 computerized control systems. Our in-house expert maintenance department follows a strict preventive maintenance schedule on all machines.
A Team Of Milling Technologists
Our millers have dedicated their lives to understanding the full potential of wheat, as well as perfecting the production process from field to table. Our team of experts and engineers have decades of experience in milling technology and stay up to date through continuous education programs locally and abroad. 
Bakalian Flour Mills continues to innovate and meet the evolving needs of the market by investing in education programs, in-house trainings, and top industry workshops. In turn, we share this continuously updated know-how with our clients through.
Training, research, development, and assistance

Know-how and recognized experience

Technical assistance and advice

Product development and problem solving

Tailor-made flour for specialty products