FLOUR FOR
PROFESSIONAL
BAKERS
We offer a wide range of flours that bring out the best in all baked goods from Arabic, French, and specialty breads, to pastries, pizzas, and biscuits.
As the region's trusted producer of wheat flour, we are the primary choice of industrial and artisan bakeries, packaged goods manufacturers, hospitality industry businesses, restaurateurs and chefs.
ISO 22000: Certified food safe
Our flours are never bleached nor bromated, and they contain no chemical preservatives. Product specifications follow international as well as Libnor standards and are certified food safe.
Bakalian Flour Mills is certified food safe by TÜV Rheinland, Germany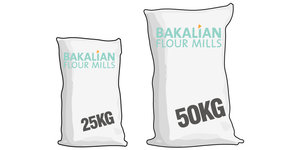 25 KG AND 50 KG
WOVEN POLYPROPYLENE BAGS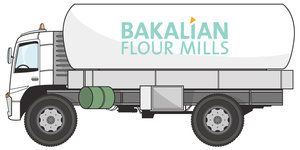 Our flour is packed in 25kg and 50kg woven polypropylene bags or delivered in bulk to our partners with in-house flour silos.
Get in touch to know more about available sizes, prices, and delivery options.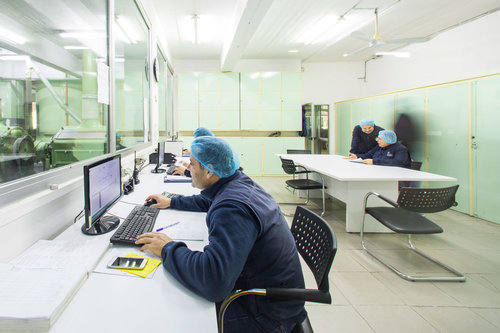 Customized solutions and personalized support
We have cultivated a passion for the milling industry with cutting edge technology and continuously developing know-how, maintaining Bakalian Flour Mills as a forerunner in the industry.
This passion is also the fruit of a close collaboration with our partners: artisan bakers, industrial bakers, and renowned restaurateurs.
The personalized support we provide to our customers is undeniably the greatest added value that positions us as a key player in the local flour milling market.
Get in touch to find out more about our customized solutions.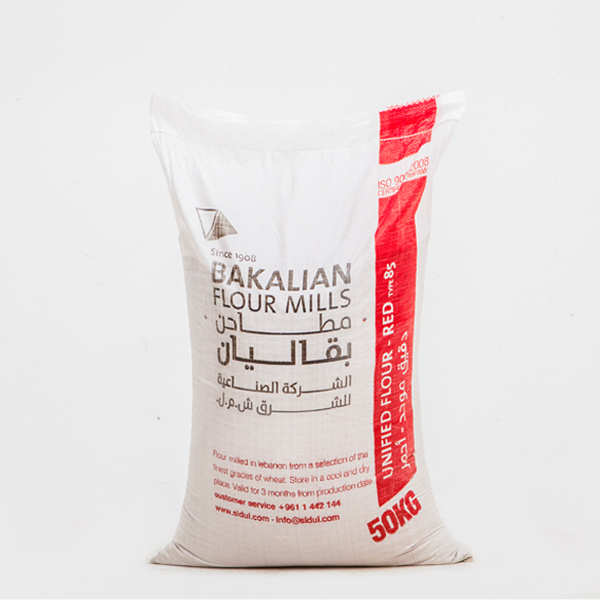 The local Reference flour for Lebanese pita bread manufacturers, with high water absorption.
Also known as Zero.
APPLICATIONS
Lebanese Bread, Flat / Pita Bread, Kaak Al –Asrounieh.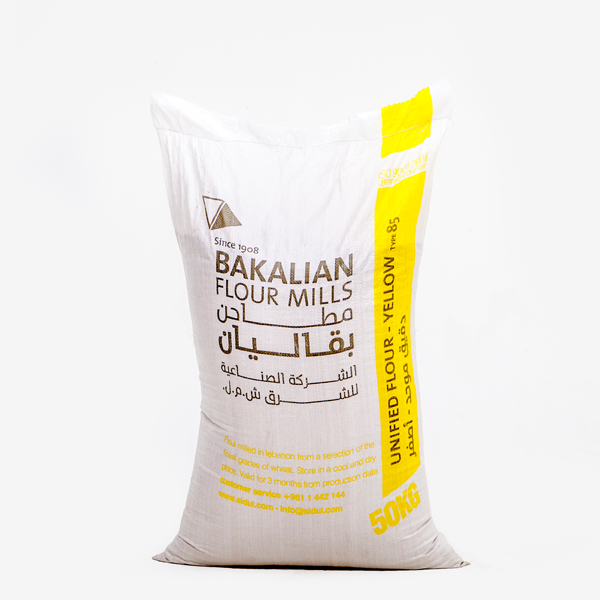 Increased protein for a slightly more voluminous product and added Ascorbic Acid to give the dough more strength and stability for industrial use.
Aslo known as Zero.
APPLICATIONS
Flat bread, "kaak al-asrounieh", "Manakeesh", "Taboon" bread, Breakfast cereals, Tortilla, Crackers.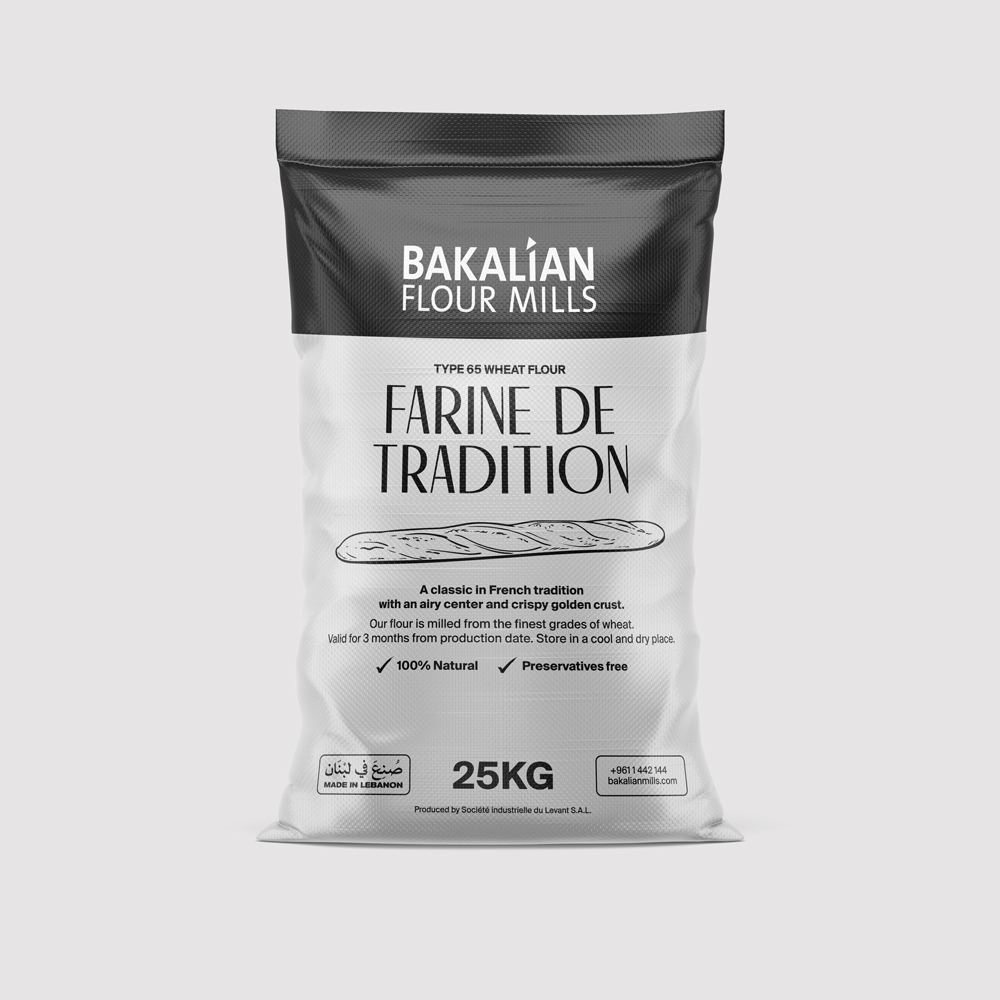 Its well rounded profile allows the user to easily produce all kinds of rustic and long fermentation breads, while developing a nice volume.
Without any ascorbic acid or preservatives, this flour is made with a careful selection of the finest wheat to ensure year-long quality and consistency.⠀
APPLICATIONS
"Baguette tradition".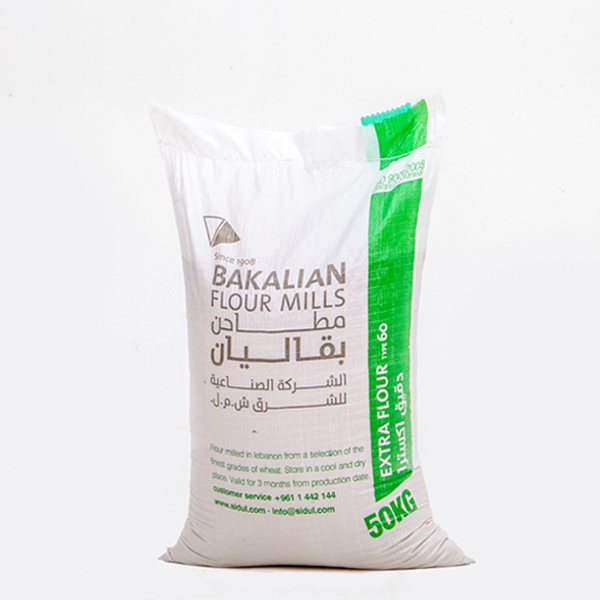 A premium unbleached flour that gives high volume.
APPLICATIONS
Bread rolls, Frozen Dough, Toast, Cake, Bagel, Pastries, "Mouajjanet", Croutons, Pancake & Pain de mie.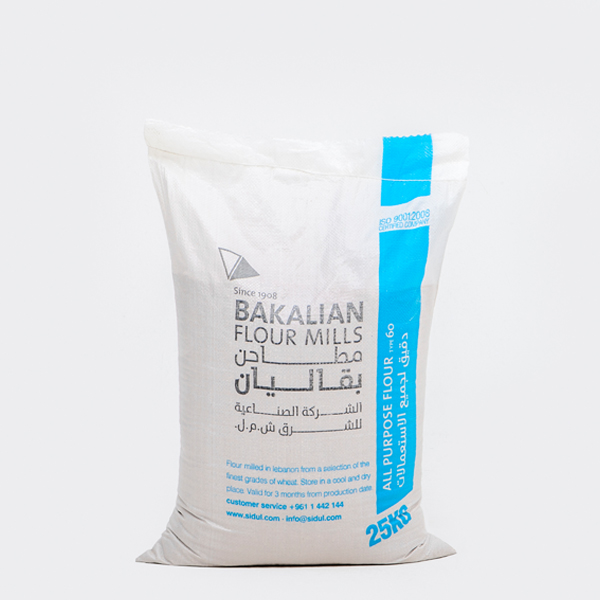 The household favorite. An all purpose flour that is easy to work with but gives professional results on a vast range of products.
APPLICATIONS
French Baguette, Breadsticks, Crepe, Mouajjanat & homemade bakery.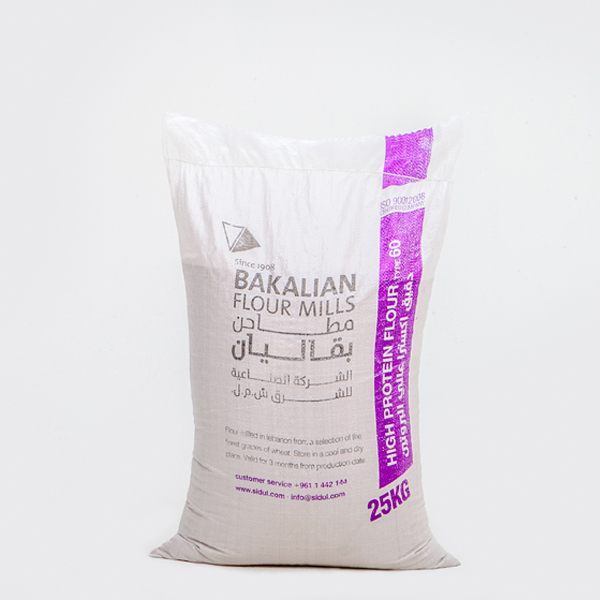 A high-gluten flour that gives high volume, strength and extra chew.
APPLICATIONS
Burger buns, Brioche, Sourdough, Flaky Pastries such as Croissant, "Mille-feuille" & Arabic sweets.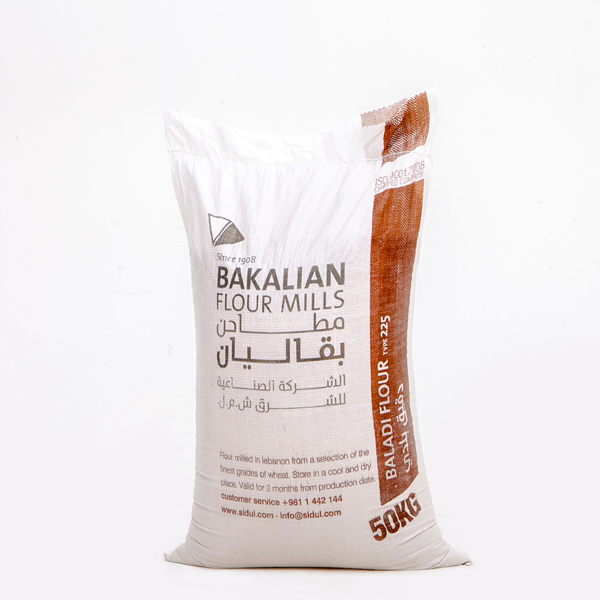 Brown flour, rich in fibers and minerals.
APPLICATIONS
"Saj' bread, "mar2ou2", brown bread.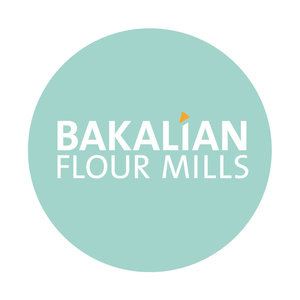 Enjoy the full health benefits, natural flavor, and color of the entire wheat kernel. Brown whole wheat flour, rich in fibers and minerals.
APPLICATIONS
"Tannour", "markouk", whole wheat meal.